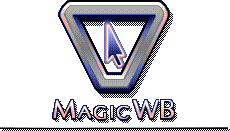 Copyright © 1992-98, Martin Huttenloher







"...you'll think you just bought a new computer!"
(Amiga Magazine)
Welcome to the official homepage of MagicWB - The Workbench Enhancer. Here you will find all the latest news, enjoy the author's support & extras, download MagicWB tools and add-ons, read reviews and the FAQ and more. This place even offers an online registration of MagicWB which will serve you faster than any commonly used registration method. Support MagicWB now to secure its future...

MagicWB is a full replacement for the Graphic User Interface of the Workbench and has become the standard visual interface on the Amiga. Over the last years MagicWB has received various merits and an overwhelming response from Amiga magazines and users worldwide proclaiming it "a must for all Amiga users" (see the extras section below for independent reviews). Since its debut in 1993, dozens of other PD authors have supported the spirit of MagicWB through their contribution of hundreds of 3rd-party packages and extensions to MagicWB (which you can also find in the extras section to download) and also by adopting its new style to their programs. Even commercial applications are supporting the multi-colored look & style of MagicWB.

As you read these lines, you have probably already heard about MagicWB and that "it belongs on every Amiga" (Amiga Special 10/95). By registering right here on this website you will receive the full, registered version of MagicWB with which you can enjoy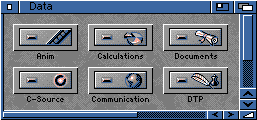 the new look & feel of many programs and icon packages and simultaneously transform your old and dull Amiga Workbench into an impressive workstation environment, which will be the envy of all PC Windows and Mac users...
By the way: Did you know that the graphics, design & layout of this website were done by Martin Huttenloher himself, the author of MagicWB? So, you can rely upon his skills & talent.